Edgar's Mission Farm Sanctuary Case Study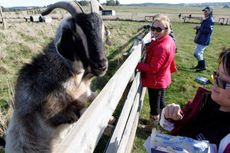 As the last shovel and trowel was laid to rest on Tree Day, 400 native trees and shrubs had found a new home at Edgar's Mission Farm Sanctuary.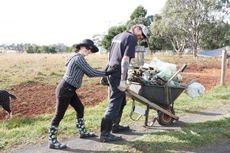 Over 50 cheerful, hard-working volunteers turned up to the sanctuary, which is set on 60 peaceful acres in the foothills of the Great Dividing Range, Victoria, in the town of Willowmavin (near Kilmore).

This was the fourth year of involvement in National Tree Day by the not-for-profit sanctuary for rescued farm animals. Volunteers came from near, with many from the local community in the Shire of Mitchell, and others travelled a long distance to make their personal contribution to enhancing the environment.
The Coordinator for the day (and founder of the Sanctuary) Pam Ahern told the crowd of happy tree-planters that all things grow with love.
The volunteers who attended clearly enjoyed the special day because it gives people a meaningful way to make a difference to our planet. Surrounded by the rescued animals, people were happily planting native trees and shrubs and it was clear that one person CAN make a difference.
The trees planted at the sanctuary provide more than shade and shelter for the sanctuary's animal residents - they also provide habitat for insects and other creatures that go on to be pollinators.
Volunteers are able to return to the sanctuary in the future and see how the trees and shrubs they carefully planted are growing and have their own personal connection with the work they undertook on Tree Day 2011.