Sunderland Bay Surfbeach Coastcare group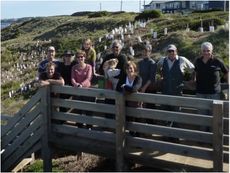 A beautiful morning greeted members of Sunderland Bay / Surfbeach Coastcare group for revegetation works as part of National Tree Day on Sunday 31st July. Although no trees as such were planted, more than 500 grasses and groundcover plants were planted by ten members in two hours. A great effort by all!
The group has been working on rehabilitating six weed infested areas along this stretch of coast. The National Tree Day plantings were the final for this site at the end of Sunderland Bay Road, which was an old soil dump covered in Kikuyu.
With three sites now fully revegetated, the group will now focus on the area around the carpark at Sunderland Bay Road, which adjoins the site just completed and again is currently infested with kikuyu.