Echuca Specialist School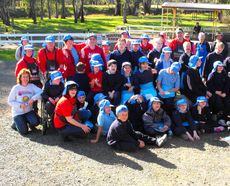 Bunnings Warehouse Echuca and Echuca Specialist School teamed up to participate in Schools Tree Day in 2011.
Thirty students from the Echuca Specialist School took part to plant native trees and bushes in front of the Echuca Historic Car Club. The school also teamed up with Bunnings Warehouse Echuca, Rotary Club of Echuca Moama, officers from the Campaspe Shire and Member for Rodney, Paul Weller.
Students were paired with a 'buddy' to plant, water and protect the natives, while also working in groups and learning the importance of maintaining the environment.
Altogether 60 native trees and shrubs were planted on the day, including Long Purple Flags, Kangaroo Paws & Prostrate Correas. The day was an immense success, providing a great opportunity for the whole community to become involved in National Tree Day.
The Acting Principal Mr Paul Marshall said, "The tree planting day was a good way for the students to learn. We are trying to help teach kids about helping other people and manage the environment."
The team from Bunnings Warehouse Echuca hopes to build an ongoing relationship with the Echuca Specialist School.