Narrabeen North Public School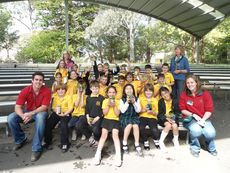 Bunnings Narrabeen supported Planet Ark's Schools Tree Day on the 29th of July at Narrabeen North Public School. Helped by Bunnings team members, the students planted 60 native plants across the back fence line of the school.
Student representatives from the school's 19 classes took turns throughout the day, each planting 2-3 trees. Team members and students spent the day digging holes, preparing the soil for the seedlings and talking through the importance of planting native trees for the Australian environment. Bunnings team members showed students planting techniques with newspaper and mulch that protect the small plants from intruding grass and weeds while they are still small. Plus each student was also given a plant to take home and grow!
The students were very excited that the plants needed to be looked after on an ongoing basis and the school has now set up a class activity to have the trees watered every day.
A great day was had by all and both students and Bunnings were proud to be part of the bigger goal to do something positive for the environment.
Principal Robert Blanchfield said "All of us at Narrabeen North PS were thrilled to have the support of Bunnings to ensure the success of our Tree Day activities. Every student was actively involved and got to take home a plant to care for and watch grow. I have been told by many students that their plants are now thriving at home! It was a great day for everyone and our students learnt so much!"