Auburn City Council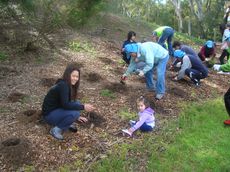 For National Tree Day 2011, Auburn City Council and Community Pride hosted a community tree planting in the Auburn Botanical Gardens, along the Duck River. Over 180 volunteers, including scout groups, religious groups, local businesses and families, participated on the day, planting, mulching and watering over 2,200 native tube stock.
The day finished with a community BBQ and was a great success overall. The only thing Council said they would do differently next year would be not so well prepared!
"We made it too easy for our volunteers as we had already dug the holes with an auger in the week leading up to the event and had the mulch ready to spread. As it had rained a week in advance of the event, the ground was perfect for planting."
Auburn City Council are looking forward to another successful Tree Day event in 2012.