Holroyd High School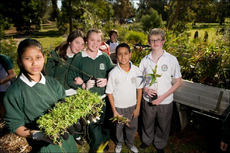 Holroyd High School has committed to a long-term project of growing a small forest, which will contribute to the reduction of urban heat, in particular, on the school oval where there is currently no shade. The forest will also help to create an exchange of breezes from the shaded forest areas across the hot school oval in Summer. These breezes will help to cool the open areas and make sporting events more comfortable.
The School's Tree Day activities were supported by the expertise of Daniel Smart, horticulturalist from Fairfield City Council, and Dave from Ox Engineering, who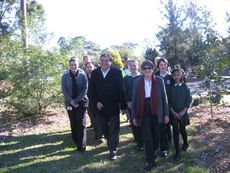 prepared holes for the trees and assisted students with planting. Ox Engineering has donated money, time and resources to the greening of Holroyd High School over a number of years and have a wonderful vision to landscape the grounds, reintroduce biodiversity and provide a natural solution to climate change in this area. The Parramatta Corrective Services Office have been allocating work teams to support the development of the project.
The afternoon concluded with the opening of the forest walk by Mrs Hoddinott AO. Students and staff were joined by Mr Tony Issa, MP for Granville, Adam Ford, Landscape Architect from Holroyd City Council, representatives from Parramatta Corrective Services Office, Daniel, Dave, and visiting parents, to follow the forest walk along to the seat and plaque donated by Terry Tisdale, owner of Ox Engineering, Fairfield. The event concluded with afternoon tea on the library lawn.

To initiate behavioural change and change attitudes to ecological sustainability in the School community, the School implemented other environmental projects, such as a worm farm for recycling bio-waste, a vegetable garden to produce its own food, an energy reduction program and a waste recycling program. The School also hopes to implement a Youth Environment Group.