Community Environment Network, NSW
Since its conception in 1997, the Community Environment Network (CEN) has brought together the voice of active individuals and groups in Lake Macquarie, Wyong and Gosford in a common cause to support the local natural environment. This non-profit organisation, through their many projects, has helped their community gain a greater understanding and awareness of indigenous wildlife and plantlife, and the important role they play in our lives.
In 2008, CEN in conjunction with Wyong Council, Hunter Central Rivers CMA and Bateau Bay Bushcare, held their first National Tree Day event as part of their Stepping Stones Corridor project. Supported by NSW Environment Trust, the project seeks to establish a wildlife corridor across public lands in Wyong Shire, expanding and improving the quality of remnant vegetation in the area. Their 2008 National Tree Day event saw 1000 native plants and shrubs planted, with 50-100 volunteers turning up to help out.
A family planting together Killarney Bateau Lions Club members helping out
CEN held another National Tree Day in 2009, repeating the success of the previous year. Through these community events, they are able to showcase the efforts of local environment groups as well as educate individuals about native plant species and wildlife.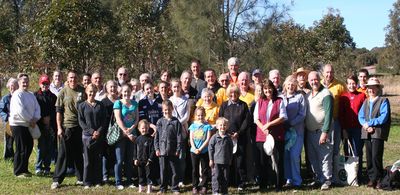 The planting crew in 2009.
"We've had two National Tree Days and both have seen 1000 plants in the ground. One day really helps the effort along and is a great way to get the aims achieved. Once a year isn't too demanding for people and in a 3 or 4 year period, we've put well over 4000 plants in the ground"
- Jen Dwarte, Environmental Project Officer, CEN and National Tree Day Site Coordinator
This year, CEN will be running their third National Tree Day at the EDSACC Oval, Bateau Bay.