Friends of Mount Majura, ACT
In north-east Canberra lies a mountain called Mount Majura. Part of Canberra Nature Park, it is full of great walking trails and interesting native wildlife and plant life. The Friends of Mount Majura, along with their neighbouring ParkCare groups have been nurturing this land and teaching the local community about the Mount Majura bushland.
Since 2006, the Friends of Mount Majura have been taking part in National Tree Day. However, they only officially registered their Tree Day site in 2008 to garner more supporters for a massive planting site in the nature park. Instead of the regular 20 volunteers turning up on the day, almost 120 people from their local community participated in the 2008 event.
The Greening Australia ACT Land Keepers program helped with the provision of native seedlings while the rangers of ACT Parks, Conservation and Lands and the Majura Mountain Scouts provided on-site support on the day. A local restaurant provided volunteers with a vegetarian kebab BBQ at a discounted price. With the help of these groups and organisations, the Friends of Mount Majura were able to provide ongoing care for land they had nurtured for many years, as well as educate their community about local habitats.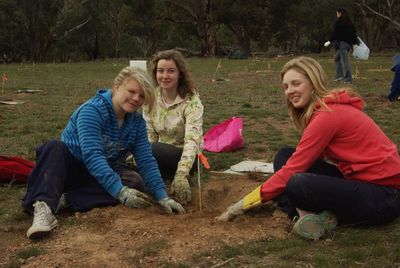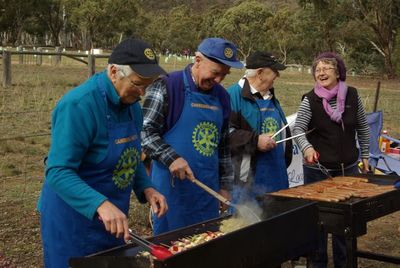 Girls planting together Rotary Club of North Canberra running a lunch-time BBQ
In 2009, the Friends held another National Tree Day at the Majura Paddocks. Their volunteer numbers increased again, with over 140 people turning up at the site. A huge number of supporters came on board to help out at the event, including:
Greening Australia
Molonglo Catchment Group
North Canberra Community Council
Hackett Community Association
Rotary Club of North Canberra
ACT Parks, Conservation and Lands
Australian Defence Force Academy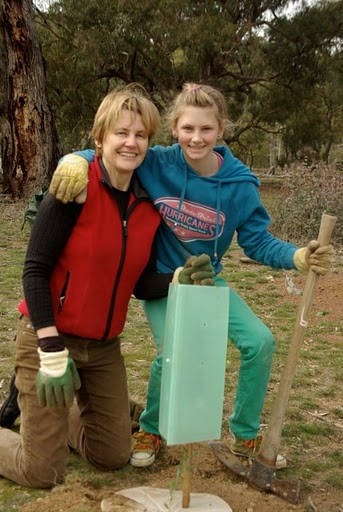 They also garnered significant exposure in their local media, landing mentions in the Canberra Times, the Chronicle and the Hackett Neighbourhood Watch newsletter.
On Schools Tree Day, the Friday before National Tree Day, the Friends organised for the students, teachers and parents of the local Blue Gum Community School to plant over 200 native seedlings. Students of the Blue Gum School and the local Majura Primary School lent a hand for after care of the young plants.
National Tree Day has become an all-round community event that showcases the fascinating native wildlife in the area. Each year, the Friends of Mount Majura bring together local residents, groups and businesses for a fun day outdoors to get to know the bushland of Mount Majura.
Thank you to Waltraud Pix, Tree Day site coordinator for the Friends of Mount Majura for her help with the case study and for her great work in the community!