Carlton Primary School Victoria
Environmental education at Carlton Primary School, Victoria, plays a vital role in the development of both its students and the community. Christopher Burgess, the School Well-Being Coordinator, oversees all the activities undertaken on Schools Tree Day, ensuring studentst gain lifelong skills that they can take with them beyond school grounds.
With the support of the council and several green groups, Carlton Primary has implemented many environmental education programs that are now integral to the school curriculum. Conservation Volunteers Australia helped students establish a kitchen garden as part of the Gould League's 'Multicultural School Gardens' Program, where fruit and vegetables ripen to be used in the school's commercial kitchen. This promotes healthy eating and an awareness about what children are putting in their mouths and where it has come from. The school lies in the heart of inner city Carlton, only 2km from Melbourne CBD. Its large school grounds provide valuable space in a highly urbanised area with limited parklands. Many of their students live in high-rise housing with barely any gardens to call their own. The trees that they plant each year serve as an extension of their homes, their own personal 'backyard' that benefits the community as a whole.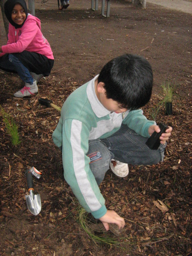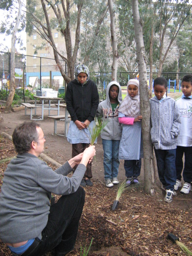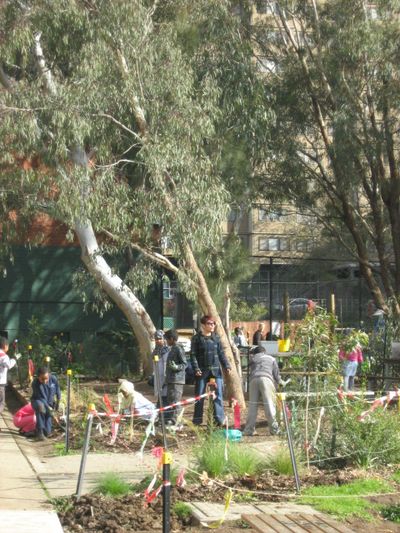 They have garnered funding from the Carlton Rotary Club, the University of Melbourne, green groups and the local council for their many green projects. Community support, material, physical and monetary, have led to the development of a rain garden, cottage garden, sensory garden, and different wildlife returning to the urban area. Considering this inner-city area has limited space for the growth of plantlife, Carlton Primary provides the community with a welcomed space that beautifies and softens their local area.
In 2010, students underwent a biodiversity investigation of their local environment, focusing on indigenous plant species and the aboriginal use of flora. They have implemented a long-term plan aimed at recreating a landscape similar to pre-European settlement.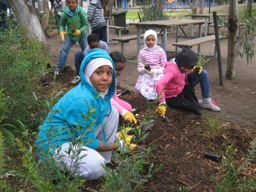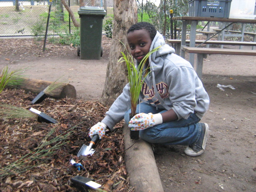 On Schools Tree Day 2010, Carlton Primary had a fantastic event with the Lord Mayor of Melbourne, Robert Doyle in attendance. They planted hundreds of trees, shrubs and grasses indigenous to Inner Melbourne with the help of parents, students and teachers. Each year they make greater steps to create their urban forest and enhance the lives of their local community.