Bertram Primary School Western Australia
Opening in 2007, Bertram Primary School has encouraged sustainability initiatives from the get-go. Located in Bertram, south of Perth, Schools Tree Day is one of many programs established to educate its students about living environmentally-aware lives.

The school has been certified as a WasteWise school, with the Garden Flies student group making sure recycling, composting and garden activities are all taken care of on the school site. They have been recognised by the local Town of Kwinana LyriK Awards which has provided the group with funding to continue their sustainability programs. Students grow their own organic fruit and vegetables in the school's garden, ensuring that all students have a strong understanding of the planning, growing and harvesting processes. When ripened, this fresh produce is used in cooking classes to promote healthy living and sustainable practices. At Bertram Primary School, all 570 students participate in the garden and kitchen activities of the school on a regular basis.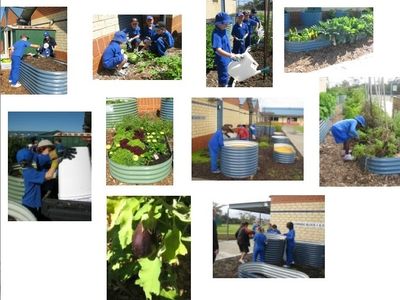 In their first year as Tree Day participants, Bertram Primary joined 11 other schools in a community planting event at the Baldivis Children's Forest. The project initially began as a single Schools Tree Day in 2000 but has since grown to a year-round project with enough corporate funding to employ two part time staff. Fifty students from Bertram Primary contributed to these efforts in 2008 by planting 150 trees and 120 shrubs and groundcover.
In 2009, they ran their own Tree Day event on school grounds. Their aim was to revegetate the swale, pulling out all unwanted weeds and planting native trees to beautify and manage the area. Members from Conservation Volunteers Australia were on hand to provide expert advice and assistance in the preparation of the planting area, removing weeds and also educating students about how to maintain the site in the future. The students also worked closely with the Frog Doctor, Johnny Prefumo, to ensure that the regeneration program would provide a healthy environment for frogs that live in the swale. With their combined efforts, over 1700 native seedlings donated by local businesses were planted to help revitalise the wetlands site.