Koala Retreat
Through Marcus Zorich's vision, the Western Sydney International Dragway (WSID) has transformed from 70 hectares of urban landscape, to one that serves both koalas and people.
Since 2006, Marcus and members of his organisation, Koala Retreat, have gathered volunteers from the local community to help beautify the venue with native trees. WSID has installed two types of tree planting projects, which showcase the potential of this type of program in an urban area. The first is a formal program where leaves can be recycled and branches brought back for koalas in captivity. The second is for the people and for the environment, "combining economics with conservation".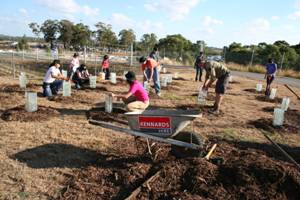 The planting of native trees have helped provide the venue with shade and a picnic atmosphere, expanding their target audience to families and children. It adds a new dimension to the Dragway so that it operates not simply as a sporting venue but a leisure destination. These trees also contribute positively to the environment, improving soil fertility and reducing noise, wind and dust in an area where these elements pose a real problem.
When the program began in 1996, the landscape suffered from dry heat and wind, with no trees to help maintain moisture. At the time, WSID used manpower and huge amounts of water to keep the grass green all year round with much environmental and monetary expense.
Today the Dragway has emerged into a rich piece of land that everyone can value. There have been reductions across the board, in cost, watering and in labour needed to maintain the area. Through this long-term project, Koala Retreat has helped WSID improve the quality of its grounds, showing how a natural setting and human traffic can merge and thrive successfully with little cost to the environment.