Tumut Council
In south-west NSW, Tumut Shire Council has garnered enthusiastic support for the cause of trees. For the last six years, Tumut residents have been preserving and revitalising the region they live in.
Surrounding the shire of Tumut lie thousands of acres of Radiata pines with majestic red gums lining Tumut river, while the native trees of Kosciusko National Park invite more and more wildlife each year.
Tumut Shire Council hold no ordinary tree day. Their event has become a dynamic and fun day that the entire region is involved in. They expanded the scope of their National Tree Day by holding competitions, setting up innovative displays and through extensive radio promotion of the site.
With the help of businesses, the Council was able to introduce an event that encompassed more than just tree-planting. Displays of electric and petrol mulchers and rainwater tanks by the Outdoor Power Centre of Tumut were set up on-site, as well as soil covers, mulchers and greywater diversion bins by Elliotts Landscape Supplies of Tumut. Much needed mulch was provided generously by Tumut District Tree Services while gift voucher giveaways were also supplied by local nurseries.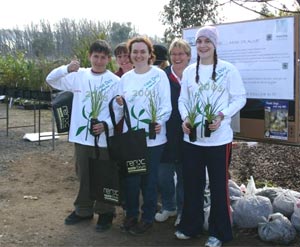 With so many local businesses involved, Tumut Shire Council was able to offer residents valuable incentives to attend their tree-planting event as well as undergo ongoing maintenance of either their home gardens or public community parks. Youth Council volunteers were even on hand to help residents wheel out their freebies and help load them in their cars.
The Council promoted their event through a number of communications, including live radio interviews on FM 96.3 and on the ABC Radio Gardening Show. Local gardening celebrities were invited to teach residents how to plant seedlings.
Their collaborative efforts ensured that every resident who participated came away from the event with something to help them protect the environment they lived in.