Lions

Lions has been an official supporter of National Tree Day for nine years.
As well as providing helping hands, Lions Clubs put on barbecues at hundreds of tree planting sites around the country.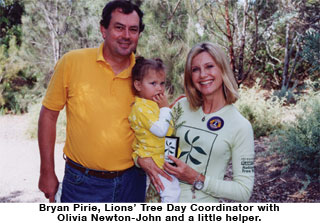 "Tree Day is a great opportunity for Clubs to get together with local community members to do something positive for the environment. I encourage every Club to approach their council, school or green group and find ways to participate in this very worthwhile project. Let's combine our individual Club efforts and make a positive contribution to the environment!"
Bryan Pirie
Lions Tree Day Coordinator and
Public Relations Chairman 201N5
Please note: Any requests for Lions BBQs need to be made by mid-June for National Tree Day plantings.
Lions Club Case Study: Clarinda Lions Club digs in!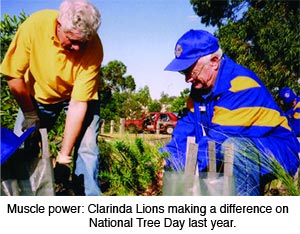 Thanks to the great work of the green thumbs at Clarinda Lions Club and Parks Victoria over a number of years, parklands in Melbourne's southeastern suburbs have been rehabilitated and revegetated.
Several years ago, a series of sandpits from Karkarook Park to Braeside Park were devoid of any vegetation except for a few weeds and a couple of old gum trees. Today, the first two stages of rehabilitation are complete, with the creation of serpentine wetlands, trails, an access road and parking. The lake has been filled and revegetation is an ongoing project.
On National Tree Day 2005, Parks Victoria provided trees and grasses for the area and various Lions Clubs and local community members provided the planting muscle. The satisfying day of planting was finished with a barbecue provided by the Moorabbin Club and was cooked to perfection by the Clarinda Club.