Schools Tree Day
Each year, around 3,000 preschools, kindies, primary and high schools across Australia take part in Schools Tree Day. Students nation-wide have learnt how to plant, and care for the seedlings they grow. Schools Tree Day 2015 will be on Friday July 24th, although events can be held at any time during the year.
Schools Tree Day can mark the beginning of a long-term environmental program, engaging your students in a fun, hands on activity that can reinforce their environmental, maths, science and creative arts learning or simply contribute to creating beautiful school grounds.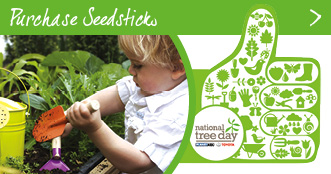 "This was our first Tree Day event. All the students were very enthusiastic and thoroughly enjoyed the planting process, even though it was pouring with rain and they all got wet and muddy - they loved it. We had an abundance of parent helpers, which added to the community feel of the event."
More Schools Tree Day success stories
Documents marked with

may only be available in PDF format. If you don't have Adobe Acrobat (or the reader), a FREE reader is available from Adobe.