National Tree Day Logos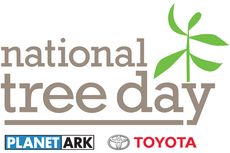 Planet Ark makes the National Tree Day (NTD) logo freely available to councils, schools, not-for-profits, and environment and community groups to help promote National Tree Day. For-profit businesses wishing to use the trade-marked NTD name or logo to promote their business activities or to generate PR for themselves must contact Planet Ark before use to seek permission.
Logos are provided in three formats: JPG, EPS and/or PDF. The jpg version can be used for web based promotions and low print quality resources (ie. promotional material that will be printed from a standard office or home printer). The eps and pdf versions are best for high quality (offset) printing.
We'd appreciate copies, in either electronic or hard format, of any promotions or resources that feature the NTD logo. If you have any questions, feel free to contact us on 02 8484 7200 or at pr@PlanetArk.org
Documents marked with

may only be available in PDF format. If you don't have Adobe Acrobat (or the reader), a FREE reader is available from Adobe.