Councils and Libraries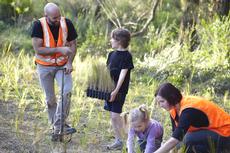 As "Australia's largest nature care event," Tree Day continues to maximise everyone's involvement in growing the local green canopy. Running or supporting a Tree Day planting will cool and beautify neighbourhoods, bring nature to communities, and have environmental benefits for years to come. Showcase and improve a park, garden, sports field, bushland, foreshore or catchment area.
We can help promote your planting event as well as your sustainable streets/nature strip program, seedling giveaways, community gardens, or garden workshops. Your activity doesn't even have to be on Tree Day - it can be any time of year.
"I have the privilege of planting this magnificent brushbox for Tree Day, as a symbol of the City's commitment to greening Sydney and to our association with Planet Ark. There are over 30,000 street trees and 12,000 park trees in the public domain of our City, and we are working hard to increase the urban canopy by 50 per cent by 2030." - Clover Moore, Lord Mayor of Sydney

"This year's local event had an unprecedented attendance which more than doubled last year's turnout." - Mandurah Mayor Paddi Creevey, 2012
More Council Tree Day success stories
Find out how your council could make the best of National Tree Day, or get set up in minutes by calling 1300 88 5000.